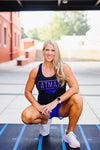 About Me
I have been a fitness instructor for over 20 years teaching in person who transitioned to teaching only virtually.

I started FITVDS, my virtual business in 2020 during the beginning of the pandemic. I've coached hundreds of people keeping them fit and safe at home, teaching 3 live classes a day.
With my success, I was able to hire other instructors to the FITVDS family. We are still growing strong and plan on adding more instructors nationwide. We have on-demand pre-recorded library of hundreds of workouts.
Teaching virtually is the perfect platform for me. Being able to interact with each member allows me to teach proper form and motivate through a screen. That is when LATMAT Jump was born. I wanted a way to help coach proper form virtually. I teach a lot of agility classes with fast feet placements. I needed a better way. One night, I asked my husband to bring me some painters tape. I pulled out a piece of paper and had him tape out my lines. That is when I started a search on the internet for a mat in the market that had this solution ... Nothing. I was shocked something so simple by adding lines to a mat didn't exist for a jump mat. I then contacted a patent attorney to see if this could be a patentable product.
Fast forward and LATMAT Jump has a utility patent pending for improving the jump mat. I went through several demos of the product to find the perfect jump mat. I kept increasing the size and thickness to make sure joints would be protected. I put my demo into a test group of 5 different ages and sizes using different surfaces to see how it would work. We had positive feedback and today it keeps getting better.
I want to personally thank you for adding LATMAT Jump to your fitness journey and I am excited to meet you live in a class that I have included a FREE 30-day access to workout live with me and give you access to all of my on-demand classes ($99 value).
I am so passionate and believe in my product that I will give you a 30-day money back guarantee if you don't love my LATMAT Jump. Come stick your landing with LATMAT Jump.
In Health,
Angi